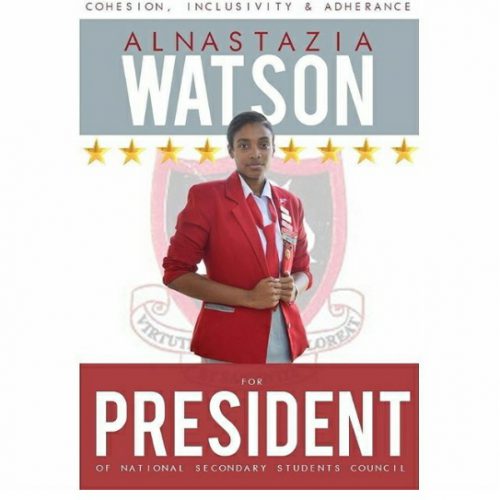 Alnastazia Watson from The Queens School withstood the challenge of Ackeem Smith (William Knibb Memorial High) to be elected as the President of the National Secondary Students' Council (NSSC) for the academic year 2016-2017. Watson will officially take office in September 2016 at the start of the new school year, and will succeed current NSSC President, Everton Rattray (Kingston College).
Alnastazia Watson, NSSC President Elect 2016-2017
Students from secondary schools across the island participated in the election process, which commenced
Watson has pledged to promote cohesion during her tenure, while advocating for adherence to provisions in the Education Regulations. She will be joined on the NSSC National Executive by:
General Secretary – Elias Fennell (Wolmer's Boys School),
Treasurer – Rasheem Martin (Camperdown High School) and,
Public Relations Officer – Shantae Shand (Campion College)
Returning Officer Ruth Lawrence hailed the election process as a success, and sought to extend commendations to all students involved. Miss Lawrence explained that all nominees were involved in intensive capacity building sessions in preparation for the elections. Other capacity building and planning sessions for the student leaders will be coordinated by the Youth and Adolescents Policy Division in the Ministry of Education, Youth and Information over the summer months.
The NSSC is the governing body for students' councils in public secondary schools islandwide. The organisation was established in 1973, but revamped by the then National Centre for Youth Development in 2003. The NSSC ontinues its representation of Jamaica's secondary school students with the guiding philosophy, "Responsible students make the difference".
Watson is the first female president of the NSSC, since Chantal Cogle in 2008.
Source: http://www.youthjamaica.com/content/alnastazia-watson-elected-nssc-president-2016-2017
"May she flourish in virtue and wisdom."